Play Fee
HP Limited Prices☆We inform you special prices from our home page.☆
Play Fee Calendar 2023 May. - 2023 July. (PDF) Click Here
Special online booking available Click Here
Accommodation Package
Affordable accommodation Package(※Not applicable during special business period)
Smoking and Non-Smoking Rooms available at your choice.
Please make sure to specified kind of rooms you wish to stay when you make a booking.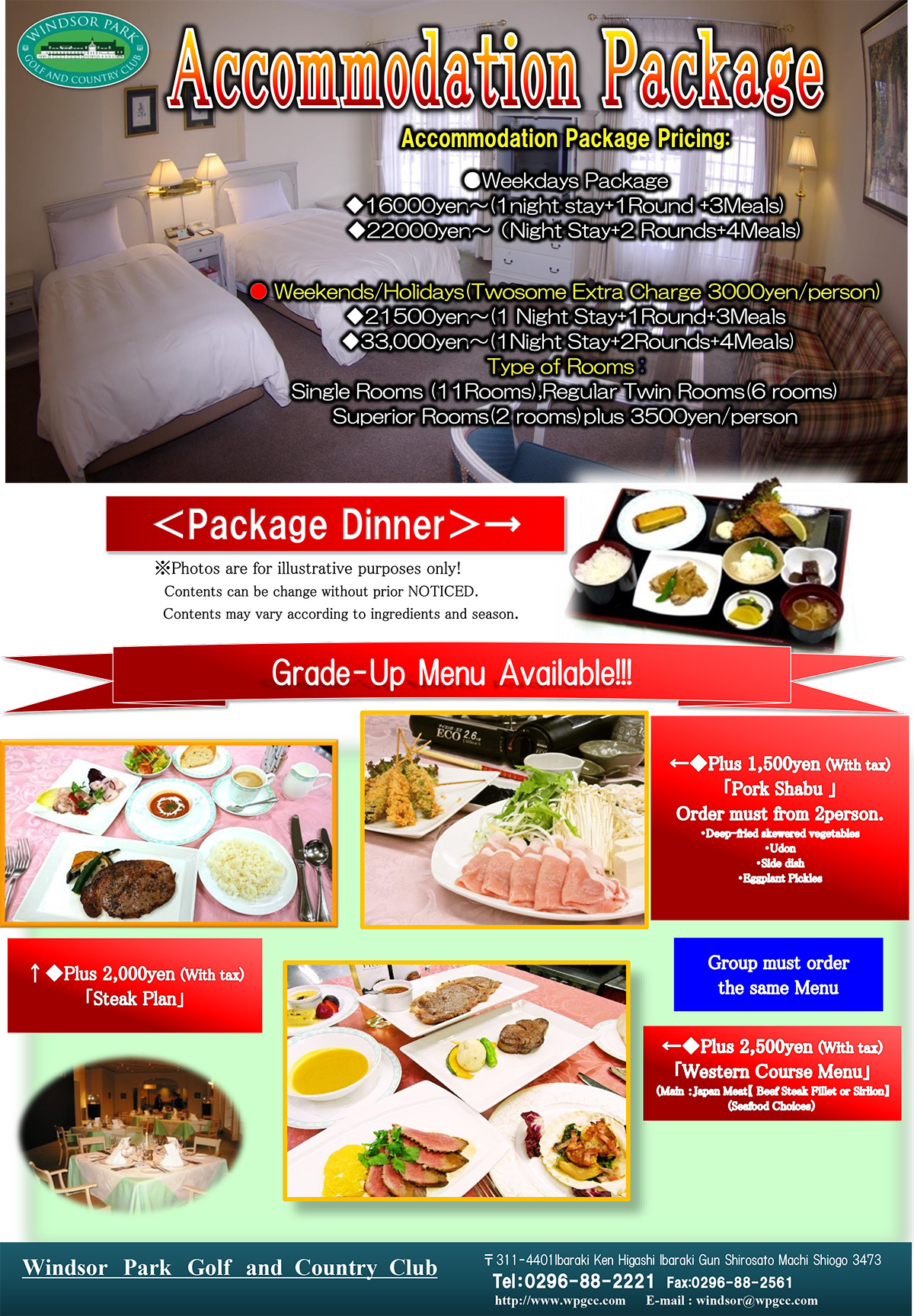 Windsor Park Hotel Special Packages
The popular accommodation package during weekdays also available during weekends
and National holidays , please call for detailed pricing information. Updated January 2023
Weekdays
Special Package
Visitor
Rate/person
Detailed information
1Stay+1Round with
(3 meals)
15,000yen~
1stay + 1Round + breakfast + lunch + Dinner
1Stay+2 Round with
(4 meals)
21,400yen~
1Stay + 2Rounds + breakfast + 2lunches + Dinner
Accommodation Package Rates varies each month and day and subject to change without prior notice.
For more detailed information, please do not hesitate to contact directly to the Club.
Accommodation Pack Dinner


※ Image photo * Dinner content can be change depending on the season without prior notice. * Grade UP Menu also available!
* Dinner Grade UP Menu
Plus 2,100 yen (Western Course)
※Main dish selection:
Fillet or sirloin Steak or Seafoods
■Steak Set plus 1500yen
■Pork Shabu Set plus 1500yen
We are waiting your reservation,
please contact us by phone or e-mail stated below:
◆TEL: 0296-88-2221 ◆E-mail: windsor@wpgcc.com

Please refrain from bringing own foods and beverages at the hotel , for health safety purposes. Your kind understanding is highly appreciated.
Hotel charge
single rooms
11 rooms
twin rooms
6 rooms
2 guests
Superior rooms
2 rooms
2 guests
Regular Hotel Room Rate

8,000Yen
16,000Yen/room
23,000Yen/room
※Accommodation Rates including Breakfast
※Twin room single use +4,500yen
※Superior room single use: +7,500yen
※Extra bed at Regular Rooms : 4,650yen/bed with breakfast Service.
※Extra bed at Superior Room:6,800yen/bed with breakfast Service.
※Room Charge 8,000yen ,cancellation charge policy 《Hotel booking 3days before:25%, 1day before:50%, no-show: 100%》